----------------NEWS----------------
MAU VGA 8600GTS GRATISSS..... KLIK AJA DAN DAFTAR

DA GTX 295
Graphics Engine : NVIDIA GT200x2
Bus Standard : PCI Express 2.0
Video memory : GDDR3 1792MB (896x2)
Core Clock : 576 MHz
Memory Clock : 1.998MHz (999X 2)
Memory interface : 896bit (448x2)
Shader : 480(240x2)
Resolution Max : 2560 x 1600
Video Out Function : Dual DVI, HDMI
HDCP/HDTV/HDMI : Yes, Yes, Yes
Packages : Manual, CD Drivers, 2x DVI Adaptor, DA NVGTX 295 Cards

SPECIFICATION

>>>2nd Generation NVIDIA® Unified Architecture
Second generation architecture delivers 50% more gaming performance over the first generation through enhanced processor cores that provide incredible shading horsepower.
>>>Quad SLI Technology1
Industry leading Quad NVIDIA SLI® technology offers amazing performance scaling by implementing 4-way AFR (Alternate Frame Rendering) for the world's premier gaming solution under Windows Vista with solid, state-of-the-art drivers.
>>>DirectX 10 Support
Microsoft® DirectX® 10 GPU with full Shader Model 4.0 support delivers unparalleled levels of graphics realism and film-quality effects for today's hottest games.
>>>CUDA Technology2
NVIDIA® CUDA™ technology unlocks the power of the GPU's processor cores to accelerate the most demanding system tasks - such as video transcoding - delivering up to 20x performance over traditional CPUs.
>>>PCI Express 2.0 Support
Designed for the new PCI Express 2.0 bus architecture offering the highest data transfer speeds for the most bandwidth-hungry games and 3D applications, while maintaining backwards compatibility with existing PCI Express motherboards for the broadest support.
>>>SLI Multi-Monitor support
Switch seamlessly between multi-display desktop mode and full screen 3D gaming with SLI. And enjoy full multi-GPU support for dual-display capable 3D games such as World in Conflict, Supreme Commander Forged Alliance, and Flight Simulator X.
>>>GigaThread™ Technology
Massively multi-threaded architecture supports thousands of independent, simultaneous threads, providing extreme processing efficiency in advanced, next-generation shader programs.
>>>NVIDIA Lumenex™ Engine
Delivers stunning image quality and floating point accuracy at ultra-fast frame rates.
>>>16x Anti-aliasing Technology
Lightning fast, high-quality anti-aliasing at up to 16x sample rates obliterates jagged edges.
>>>128-bit floating point High Dynamic-Range (HDR) Lighting
Twice the precision of prior generations for incredibly realistic lighting effects—now with support for anti-aliasing.
>>>OpenGL 2.1 Optimization and Support
Provides top-notch compatibility and performance for OpenGL applications.
>>>Dual Dual-link DVI Support
Able to drive the industry's largest and highest resolution flat-panel displays up to 2560x1600 and with support for High-bandwidth Digital Content Protection (HDCP).3
>>>HDMI Output
Support for HDMI output enables sending both high-definition video and audio signals to an HDTV via a single cable.
>>>NVIDIA® PureVideo® HD Technology4
The combination of high-definition video decode acceleration and post-processing that delivers unprecedented picture clarity, smooth video, accurate color, and precise image scaling for movies and video.
>>>Discrete, Programmable Video Processor
PureVideo is a discrete programmable processing core in NVIDIA GPUs that provides superb picture quality and ultra-smooth movies with 100% offload of H.264 video decoding from the CPU and significantly reduced power consumption.
>>>Dual-stream Hardware Acceleration
Supports picture-in-picture content for the ultimate interactive Blu-ray movie experience.
>>>Dynamic Contrast Enhancement & Color Stretch
Dynamically provides post-processing and optimization of High Definition movies for spectacular picture clarity.
1 NVIDIA SLI certified versions of GeForce PCI Express GPUs only. A GeForce GTX 295 graphics card must be paired with another GeForce GTX 295 graphics card (graphics card manufacturer can be different). SLI requires sufficient system cooling and a compatible power supply. Visit www.slizone.com for more information and a listing of SLI-Certified components.
2 Requires application support for CUDA technology.
3 Playback of HDCP protected content requires other HDCP-compatible components
4 Feature requires supported video software. Features may vary by product.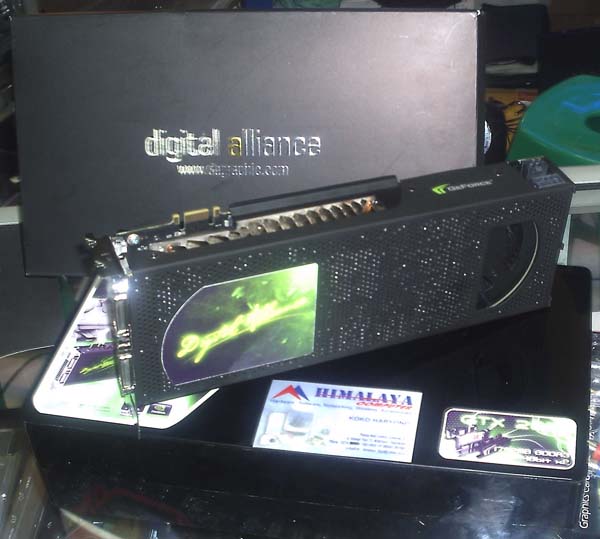 TEST SCORE
CPU: AMD ATHLON X2 5000
MOBO DFI UT 790FX M2R
MEMORY G SKILL DDR2 6400 5-5-5-15
HD HITACHI 160GB SATA II
PSU THERMALTAKE TOUGHPOWER 600VA
TIDAK ADA OVER CLOCK
3DMARK VANTAGE
3D MARK 2006
AQUAMARK3

NEWS
NVIDIA Extends Performance Lead With New GeForce GTX 275 GPU - Friday 03 April, 2009
graphics, physics, and GPU computing performance, as well as the absolute best price-performance for today's value-conscious gamers.
Based on the GT200 architecture, the GeForce GTX 275 GPU features 240 processor cores operating at 1404 MHz, 80 texture processing units, a 448-bit memory interface, and an 896 MB framebuffer. In price and performance, it sits between the GeForce GTX 260 and the GeForce GTX 285.
AMD Unveils ATI Radeon HD 4890, the Most Powerful Graphics Proce - Friday 03 April, 2009
AMD today introduced the ATI Radeon HD 4890 graphics card, driven by the world's most powerful graphics processor. The newest addition to the award-winning ATI Radeon HD 4000 series boasts a whopping 1.36 TeraFLOPs of compute power, superior GDDR5 memory, and super-high engine clock speeds capable of nearly 1GHz. The advanced design of the ATI Radeon HD 4890 delivers the best game experience in its class, including the latest ground-breaking DirectX 10.1 titles. In addition, with the introduction of the ATI Radeon HD 4890, AMD continues to enhance its "Dragon" desktop platform technology, designed to provide exceptional value to OEMs, channel partners, and do-it-yourself (DIY) consumers.

Supported by
IT DISTRIBUTION for ABIT-PALIT-DFI-THERMALTAKE.
EMD YOGYA for ECS-AMD
RADIANCE UNIVERSAL for CORSAIR-MANLI-AMD
DIGITAL ALLIANCE GRAPHIC CARDS